Underneath you will find the direct links to our Flower bulbs App which is available for Android (2.1 and higher), iPhone, iPod and iPad.
Once downloaded you can push the update button every two or three weeks for new varieties and info or wait for the auto attention
(download brochure and manual or read below for instructions)
Info: Picture and Info database of VWS with current and latest lilium, tulip, gladiolus and iris varieties. Alphabetically sorted with high quality pictures with all cultivar info of each variety.
After downloading, the Flowerbulb APP will be installed automatically. The first time you restart te APP you have to update once to get the newest pictures and information. This update is only once and is about 30mb or 200mb for HighRes, which you can also copy to your SD card to save space on your mobile internal memory. After this update you will receive regurarly small updates of several varieties. If not, simply try to update every two or three weeks by pushing the update button in the APP.
How does it work?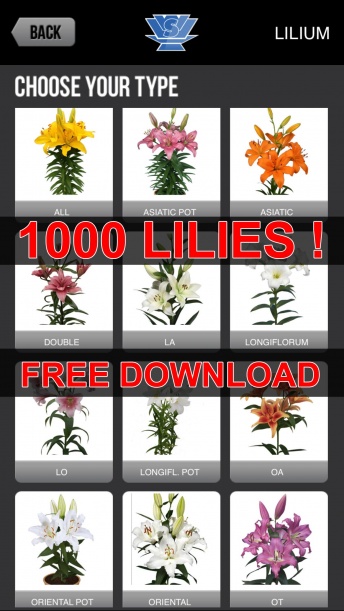 Please go to the Google Play Store (Android) or the App Store (I-OS) and search for "flowerbulbs" or scan the QR code on this brochure and select your operating system and install the APP. When you start the APP for the first time, you need to download the update to get the complete photo database on your mobile device. You can start the update by clicking on the light bulb in the upper right corner, you will get several choices. Here you can mark which product group(s) you would like to update and which resolution you would like. For a mobile phone we recommend using the low resolution and the high resolution for tablets.
When the download is completed, you have the first Flowerbulbs APP with comprehensive cultivar information. The marked option(s) in the update are now colored blue in the home screen. You can always change your choice by using the update function. Click on the product(group) of your choice or search for a variety using the search bar. If you have found the product of your choice, you can click on the "information" button at the bottom of the screen to see comprehensive variety information.
The APP will be regularly updated and new varieties will be added constantly. The APP runs entirely without internet, but you will be informed about new updates once there is a connection with the internet. An exclamation point will appear at the light bulb when there is an update available and also in the box "Message Info" will appear a new text.
For any questions, suggestions or comments, please use the contact buttons at the home screen.